Public wants more action on obesity in light of Covid19
74% of the British public want to see more Government action on obesity, in light of evidence showing links between Covid19 and obesity, says new Obesity Health Alliance research. Children's Food Campaign responds.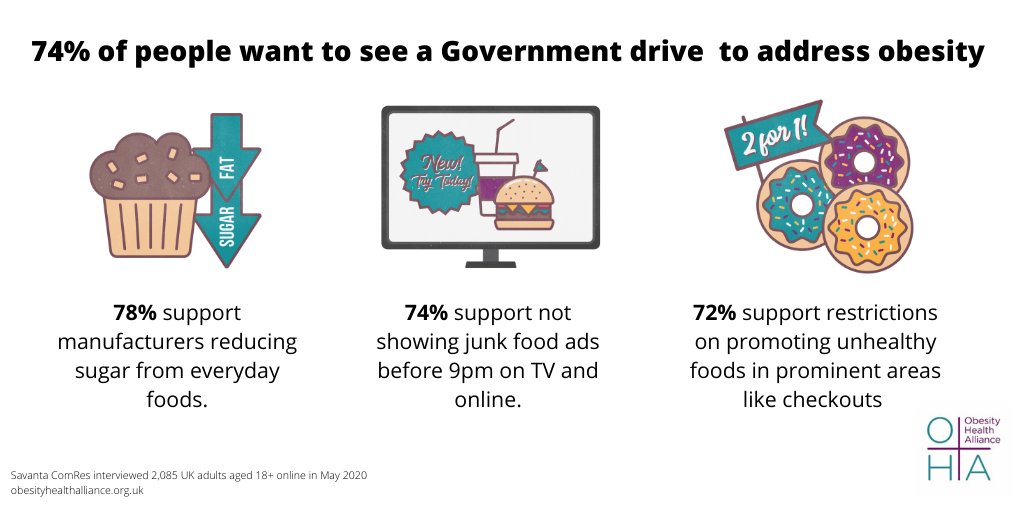 New public polling by the Obesity Health Alliance has revealed that Prime Minister Boris Johnson's concerns about the links between obesity and adverse outcomes from Covid19 are shared by an overwhelming majority of the British public.
The research with over 2,000 UK adults at the end of May 2020 shows huge public appetite for making a healthier food environment a key element of our Covid19 recovery plans.
The research reveals that:
78% of people support manufacturers reducing sugar from everyday foods.
74% of people support not showing adverts for junk food before 9pm on TV and online.
72% of people support restrictions on shops promoting unhealthy foods in prominent areas such as checkouts and shop entrances.
62% of people support restrictions on promotional offers (e.g. buy-one-get-one free) on unhealthy foods in supermarkets.
63% of people support the extension of the sugar tax from soft drinks to other sugary and high calorie foods (such as sweets and biscuits).
Obesity Health Alliance lead Caroline Cerny says,
"The Government can now feel confident that the game-changing policies needed to transform our environment into a healthier one are not only evidence-based, but also wanted by the majority of people in the UK. We are now calling on the Government to push ahead with a comprehensive plan to make it easier for us all to be healthier, now and in the future by taking unhealthy food out of the spotlight."
The Obesity Health Alliance research coincides with publication of a new report from Public Health England which confirms that COVID-19 has replicated existing health inequalities (such as age, ethnicity, levels of socio-economic deprivation) and, in some cases, has increased them. The report specifically points to links between diabetes and Covid19 death rates, as well as an increased risk of adverse outcomes for those assessed as being obese or morbidly obese.
Children's Food Campaign Co-ordinator Barbara Crowther says,
"We've seen how, even during this Coronavirus crisis and all the risk to public health, junk food brands have indulged in a range of marketing tactics from sending pizzas into schools and hospitals, running competitions to recreate their products and their ads, providing branded backgrounds for video calls with your friends, and advertising during family shows like Britain's Got Talent.

"Before this emergency, progress had already stalled on a whole set of Government proposals regarding   advertising, promotional offers, energy drinks, extension of the sugary drinks tax and better nutritional food labelling. There was already good evidence to support all of these measures, but the latest insights on links between diet related diseases and higher risk of a bad outcome from Covid19 now provide an even more urgent imperative to dust off the plans and move to concrete action. We need our children to grow up healthier and more resilient, and the time to act is now."
For more information:
To interview Obesity Health Alliance, contact Caroline Cerny, Alliance Lead, 07939 551151 caroline.cerny@obesityhealthalliance.org.uk
See Children's Food Campaign blog: 10 Ways Industry is Flogging us Junk Food During Lockdown